Happy first day of summer! June 21 marks the start of a favorite season for many, and the fun is fully underway in Daytona Beach. If you're reading this anywhere but poolside in the warm sun with a cold drink in hand, you're not doing the first day of summer right! Luckily, you still have time to get to Daytona Beach and experience a picture-perfect summer day. Below, walk through a sample itinerary of how you could spend a summer day full of endless adventures, dining and rejuvenation.
6:30 a.m.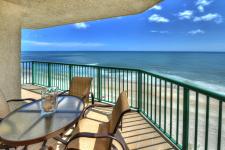 Start your summer morning by heading out to the private balcony from your oceanfront hotel room. With over 12,000 guest rooms available in the Daytona Beach area, getting a beachfront room at an approachable price is possible! Sip your first cup of coffee as you watch the sun break over the Atlantic Ocean and savor a few moments of peace.
9 a.m.
Once you're ready to face the day, suit up for your first adventure. Perhaps you head to Tomoka State Park, where you can explore the river via kayak — they are available for rent right on-site! Or, rent bikes at a local shop and soak in the scenery along the Ormond Scenic Loop. There are endless outdoor activities to choose from in the Daytona Beach area — and they are a great way to get a good workout in before noon!
12 p.m.
To escape the midday heat, consider heading indoors for a few hours. Experience marine life up close and hands-on at Marine Science Center, or perhaps by perusing the galleries at the Museum of Arts and Sciences. Or, take a free tour and sample the sweet treats at Angell & Phelps Chocolate Factory. There is a vast array of boutiques, art galleries and museums in the area — and they are the perfect escape into air conditioning! Afterward, find a favorite local lunch spot to refuel for the rest of your day.
3 p.m.
Once you've eaten, recharged and returned to your room to change into a swimsuit, it's finally time to head to the beach! Wind down for the remainder of the afternoon by sprawling out underneath an umbrella on the beach. With 23 miles of hard-packed, expansive beaches, there's plenty of elbow room for everyone. Don't forget the sunscreen!
7 p.m.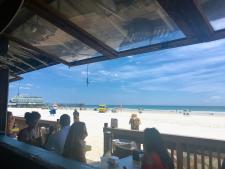 Once your sunbathing and splashing has worked up an appetite, walk or ride over to a nearby waterfront restaurant like Ocean Deck Restaurant & Beach Club. Enjoy fresh seafood and fun drink specials while overlooking the Atlantic, or head across the peninsula to one of the best riverfront restaurants in the Daytona Beach area and enjoy a tasty meal overlooking the Halifax River. Dinner with a view is the cherry on top to a wonderful summer day in Daytona Beach.
9 p.m.
Head out to find live music at any number of nearby beach bars, go for a nightcap and good conversation at a quiet local wine bar, or crash early in your hotel room —there's nothing wrong with wanting to luxuriate in the ability to enjoy your time schedule-free!
Now that summer has officially started, have you planned your vacation? Whether you want to stay for two weeks or just escape for a quick beach getaway, Daytona Beach has accommodations and adventures for all ages that are sure to suit any schedule. Don't let summer pass you by — plan your trip today!