Around the globe, Daytona Beach is synonymous with racing and boasts a deep history of speed, countless racing records and the World Center of Racing, Daytona International Speedway.
Since 1929, when Major Henry Segrave set his final land speed record on the white- sand beaches of the "World's Most Famous Beach," racing fans from all over the globe have made the journey to Daytona Beach to experience the thrill of high-action races at the iconic Speedway and to view the Motorsports Hall of Fame of America. The upcoming year will prove to be no less enticing — check out the exciting line-up of racing events and festivals happening in Daytona Beach in 2020!
Rolex 24 At DAYTONA
January 25-26, 2020
This is North America's most prestigious sports car event and the season opener to the IMSA WeatherTech SportsCar Championship. Originally known as the 24 Hours of DAYTONA, the Rolex 24 At DAYTONA is a 24-hour sports car endurance race that brings drivers from around the world, along with their exotic sports cars, to compete in the ultimate test of machine on a 3.56-mile road course. There are traditionally around 60 cars in the field competing for the overall victory, as well as four different classes. Each team trades shifts between three and five drivers, putting to the test iconic names the likes of Porsche, Ferrari, Corvette, Mazda, Ford, Lamborghini, Lexus, and Cadillac. 
DAYTONA Speedweeks Presented by AdventHealth and DAYTONA 500
February 7-16, 2020

If watching a race gets your heart thumping at all, then you won't want to miss the 62nd running of the Great American Race — the DAYTONA 500! DAYTONA Speedweeks and the DAYTONA 500 provide non-stop action and excitement every year, and 2020 will be no different. Kick off the NASCAR season with an action-packed schedule of races across several different racing series. Daytona International Speedway is where history — and your own favorite memories — will be made, so don't miss out!
Historic North Turn Legends Beach Parade
February 8, 2020
For a fun celebration of racing history, head just south of Daytona Beach to Racing's North Turn Beach Bar & Grille in Ponce Inlet. The restaurant sits on the exact spot where original beach racers made the — you guessed it — north turn from the hard-packed beach track. The 9th Annual Historic North Turn Legends Beach Parade will feature a parade of old sports cars and an acknowledgment of some of the sport's most iconic moments.
Daytona Bike Week 2020
March 6-15, 2020

The World's Largest Motorcycle Event features an unforgettable 10-day line-up filled with high-octane street fests, scenic rides, daily live music, great food, motorcycle races, bike shows, manufacturer showcases, rallies and so much more. More than 500,000 motorcyclists and enthusiasts are expected to make the pilgrimage to the 79th annual gathering — and you should be one of them!
IMSA WeatherTech 240 At DAYTONA
July 4, 2020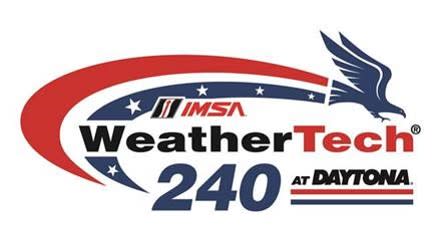 The IMSA WeatherTech 240 At DAYTONA, part of the IMSA WeatherTech SportsCar Championship, will be showcased on the 3.56-mile high-banked tri-oval/infield road course at Daytona International Speedway. The IMSA WeatherTech 240 At DAYTONA is the first event in IMSA's return to racing in 2020. This highly anticipated event will take the green flag at 6:05 pm ET on Independence Day and end under the lights.  
Working closely with public health officials and local, state, and federal authorities on amended safety protocols and procedures, the Speedway will offer a limited number of fans – 5,000 – the opportunity to purchase tickets to attend the IMSA WeatherTech 240 At DAYTONA. Purchases for ticketing and camping are limited to Florida residents only. 
For ticketing information on the IMSA WeatherTech 240 At DAYTONA, fans are urged to visit www.daytonainternationalspeedway.com or call 1-800-PIT-SHOP.
Coke Zero Sugar 400
August 27-29, 2020

Serving as the highly anticipated, regular-season finale, the Coke Zero Sugar 400 moves to a new date in 2020 and features a 160-lap, 400-mile race — and one last chance for drivers to qualify for the NASCAR playoffs. Every competitor in the Coke Zero Sugar 400 has an equal shot at making the NASCAR playoffs — win, and you are in! Attending this high-stakes race is an exciting event for racing fans and one you won't want to miss.
The fun doesn't stop at sports car racing — the speedway boasts more than 300 event days every year. From go-karts to motorcycles to sports competitions to music, races of all shapes and sizes take place here.
Biketoberfest® 2020
October 15-18, 2020

All roads lead to this four-day rally for full-throttle fun. Go ahead and start planning for Biketoberfest 2020. At this favorite fall event, more than 100,000 motorcycle enthusiasts come together to enjoy beautiful Florida weather, live music, motorcycle racing at Daytona International Speedway, and miles of scenic rides along famous A1A, historic Main Street, and the scenic Loop. Perfect riding weather and epic memories — what more could you want?
If you can't make it to a race, rally or event, you can still experience the Speedway with a variety of tours any time of year! Choose from various tiers of tour options ranging in duration times, cost, and features. The Speedway Tour clocks in as the shortest option at 30 minutes long. During this tour, you'll climb aboard an open-air tram and enjoy a narrated ride on the famous track. Snap a photo at the famous Gatorade Victory Lane, and end the tour standing next to the year's DAYTONA 500 champion car, which is preserved in the exact condition it was in as it zoomed past the checkered flag.
The 90-minute All-Access Tour offers a rare opportunity for fans to come face-to-face with the finish line they've come to know so well, get a close-up view of the pit stalls and take in unique views of the Speedway from a variety of other vantage points. VIP tours offer the ultimate fan an in-depth look at racing history and all tours include the Motorsports Hall of Fame of America.
Not sure what to pack for your day on the track? Check out our packing guide for race days. Want to experience even more of Daytona Beach's rich racing history? Check out this list of must-visit racing museums and sites to see in the area.
And don't wait until the last minute to plan your trip to see a race — ensure you get the accommodations you want by planning your trip now!