One of the best things about a fall getaway by the beach is that the whole place feels serene and refreshed — as if the beach has come up for air after a summer of surfboards, sandy strolls and splashing. A couple of things unique to Daytona Beach are its wide, expansive beaches and its fun downtown area, each of which tend to stay uncrowded all year long. Visitors don't have to feel like they're in a crowd everywhere they turn because there's plenty of elbow room for all! 
That feeling of wide, open fun is especially alive in the fall — when the summer vacationers have already packed their bags and headed home, and the families on spring break won't arrive for a few months. And with little humidity lingering in the air, it's the perfect time to enjoy all of the exciting outdoor adventures around town.
With mild temperatures, fewer vacationers and a host of entertaining events, fall is one of the best times to experience Daytona Beach. And, this year will feature a number of fun and family-friendly festivals to attend in the area. Whether you are an art aficionado or a classic-car collector, you'll find amusement options right up your alley. Check out this list of fall festivals and area events coming to the Daytona Beach area soon:
WHAT:  Biketoberfest®
WHEN:  October 17-20, 2019
WHERE:  Various locations throughout the Daytona Beach area

This fall, Daytona Beach will host nearly 125,000 motorcyclists who roll into the area for a multi-day, annual event called Biketoberfest®. This popular extended weekend event is full of fun, food, live music, motorcycle shows and rallies, scenic rides along A1A, and plenty of time to kick back at the beach. Plus, there will be racing at Daytona International Speedway, as well as an array of vendors offering everything from the latest models to parts and accessories. Start planning now to ensure you get the accommodations you want!
WHAT: Greek Festival Daytona
WHEN: November 7-10, 2019
WHERE: St. Demetrios Greek Orthodox Church

Opa! This event at St. Demetrios Greek Orthodox Church has been a favorite for over 40 years, and it offers both visitors and locals the chance to live like a Greek for the day. Enjoy costumed Greek dancers, fresh-from-the-oven foods and traditional Greek music. Relax in the coffeehouse, sip wine at the Taverna, or find your favorite Greek cuisine to take home and share.
You won't want to miss the Greek Marketplace, either, as it will be filled with handcrafted souvenirs and Greek-themed gifts. It's the perfect place to tick off every item on your holiday shopping list!
WHAT: DeLand Fall Festival of the Arts
WHEN: November 23-24, 2019
WHERE: Downtown DeLand along Woodland Boulevard
Peruse fine-art exhibits presented by over 150 juried artists who specialize in a variety of media, including painting, sculpture, leather, photography, wood, ceramics, fiber, glass and so much more. Come see DeLand blossom with color and bright spirits, and then soak in the entertainment and live music.
The DeLand Fall Festival of the Arts is proud to be voted "Best Florida Outdoor Fine Art Festival" by Florida Living! And, it's totally free and open to the public. That means you and your family can enjoy a variety of kid-friendly activities, live music and performers, as well as the work of talented artists from all over the country. 
WHAT: Riverfest Seafood Festival
WHEN: November 16-17, 2019
WHERE: Rockefeller Gardens at The Casements, 25 Riverside Drive, Ormond Beach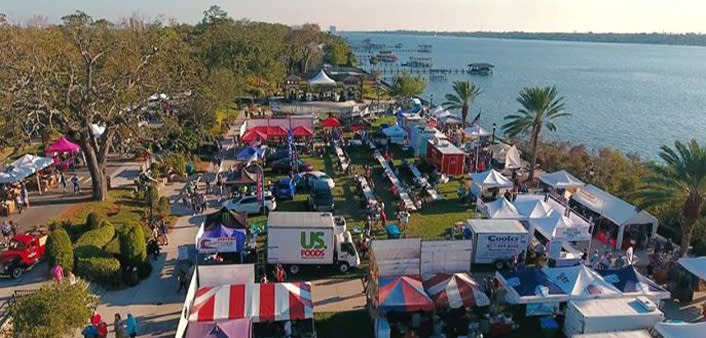 Celebrate the coastal lifestyle and all things water at the 11th Annual Riverfest Seafood Festival. Take a bite out of freshly caught fried fish; let the little ones participate in the annual Kid Fish fishing clinic; sip on a craft beer as you sit and listen to live music, or expand your mind with an educational eco-life presentation. There will be good food, great memories and riverfront fun — and the event is FREE and open to the public.
WHAT: Daytona Turkey Run
WHEN: November 28 – December 1, 2019
WHERE: Daytona International Speedway

View show-quality cars from around the country, find a beautifully restored classic, and lay your eyes on customized foreign cars — it's all happening at the 46th Annual Daytona Turkey Run! As the largest combined car show and swap meet in the United States, the Daytona Turkey Run has everything the car enthusiast needs. From accessories to hard-to-find parts to classic cars, the discoveries are endless.
Today, the Turkey Run boasts over 6,000 cars for show and sale, and it has donated more than $7 million of profits to charitable organizations. Over 1,200 special collector cars are on display and ready for sale or trade-in the Turkey Run Car Corral! Even if you're not in the market, it's fun to look. This family-friendly event is presented by Daytona Beach Street Rods in the infield of the iconic Daytona International Speedway.
WHAT:  CHALLENGEDAYTONA Triathlon Festival
WHEN:  December 13-15, 2019
WHERE: Daytona International Speedway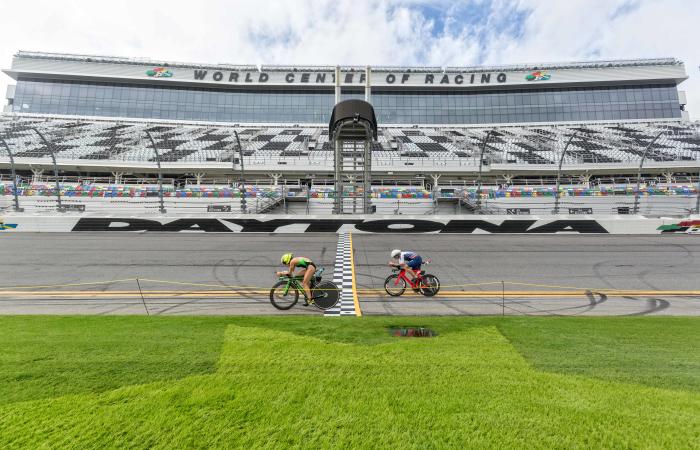 Witness hard-core triathletes compete for victory or race for yourself at the
CHALLENGEDAYTONA Triathlon, a triathlon festival. The main event is the Middle Distance Triathlon, with both individual and relay divisions. The Middle Distance Triathlon will feature a 1.2-mile swim, 56-mile bike ride and 13.1-mile run. And, the iconic Daytona International Speedway will be at the center of all the action.
In addition to the Middle Distance Triathlon, there are a handful of other activities on tap for those who are looking to participate in something a little less strenuous. These include a 5K walk/run, a kids aquabike challenge, 10K runs, a corporate relay and a speed tire-changing challenge, among others. Of course, there will be plenty of food, drink and vendors to enjoy, too!
WHAT: Festival of Magic Featuring Lance Burton and Daytona Beach's Own Harry Allen
WHEN: November 1-3, 2019
WHERE: News-Journal Center
The Festival of Magic, in its 54th year, is a Daytona Beach tradition, that always features major acts and Daytona Beach's own Harry Allen, who operates Daytona Magic Shop on historic Beach Street. This year is no exception! Featuring famous Las Vegas musician Lance Burton and Allen, a multitude of stars will take to the stage for the best in family-fun entertainment. 
WHAT: The Florida Smooth Jazz Weekend
WHEN: November 1-3, 2019
WHERE: Hilton Daytona Beach Oceanfront Resort
Smooth jazz lovers from all over come to this fun fall event to experience an incredible oceanfront weekend. Close your eyes and enjoy amazing artists like Rick Braun, The Sax Pack, Eric Darius and an array of upcoming talent. All the while, you'll never have to worry about a thing, thanks to the first-rate hospitality at this oceanfront resort. This unique event is described as a "cruise on land" experience — one that is meant to be shared with fellow jazz lovers and friends.
Well, are you so excited that you've already started mentally packing your bags? Be sure to check out our packing guide for fall festivals in Daytona Beach. With this fabulous line-up of festivals, you won't want to wait to plan your trip.
Start planning your fall getaway today! Download our free official visitors guide or sign up for our e-newsletter.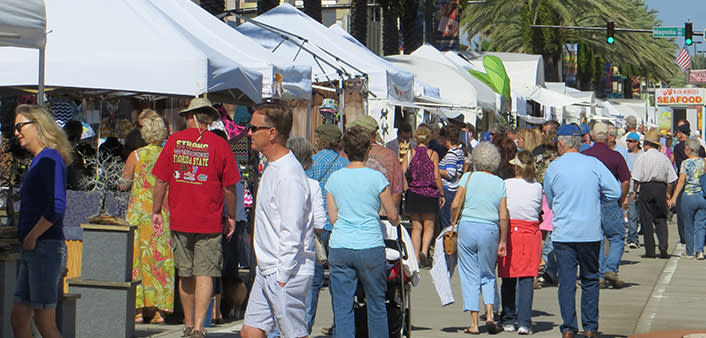 WHAT: Halifax Art Festival
WHEN: November 2-3, 2019
WHERE: The Halifax Art Festival in Daytona Beach happens along the riverfront and palm-lined Beach Street complementing its historic landmarks and architectural beauty with the art of 250 fine artists from across the country. The festival has enriched the area for over 50 years, making it the second oldest continual art festival in Florida, and is considered to be one of the most prestigious festivals in Central Florida. Offering live entertainment, a student art competition, children's activities, fine dining in many local restaurants and cafes, the festival benefits the Museum of Arts & Sciences and was recently named a Top 200 Festival in the country by Sunshine Artist Magazine.
Enjoy Wonderfall savings!
Florida Resident Deals: From May 1, 2019, through April 30, 2020, Florida residents can enjoy specials at select hotels, attractions, and restaurants.
Georgia Resident Deals: By visiting after "peak season," Georgia residents can enjoy amazing deals at select hotels, attractions, and restaurants.
Special Rates for Veterans: During the month of November, U.S. military veterans can enjoy specials at select hotels, attractions, and restaurants.
Start planning your fall getaway today! Download our free official visitors guide or sign up for our e-newsletter.