Daytona Beach's Museum of Arts & Sciences (MOAS) offers something — lots of somethings, actually — for everyone in the family. The area's largest museum hosts over 30,000 objects, from fine art and fossilized skeletons to Coca-Cola memorabilia and an interactive children's museum. MOAS, located in the lush, 90-acre Tuscawilla Preserve, is a Smithsonian Institution Affiliate and is nationally accredited by the American Alliance of Museums. 
Located just minutes from downtown Daytona Beach, MOAS is a major attraction for Central Florida and offers a stunning variety of fascinating objects and experiences. Here are some highlights: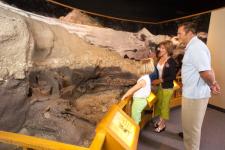 Hands-on Fun and Learning for Kids — The Charles and Linda Williams Children's Museum offers a dazzling array of exhibits designed by an award-winning exhibition-design firm. Through engaging, fun and safe play, children experience the principles behind engines (by assembling and racing a race car), medicine (by taking their own vital stats in a pretend doctor's office), gravity (by making a roller coaster), music (by playing a harp with laser beams instead of strings), optics (by using a strobe light to make a rapidly rotating string appear to stand still) and more.
From the Rings of Saturn to Galaxies Far, Far Away — The on-site planetarium offers a completely digital blend of science, art and technology that takes visitors to destinations as close as the International Space Station in low-earth orbit or as far as galaxies billions of light-years away. Recline in your seat as the OmniStar projector generates an immersive environment that completely surrounds you with a 3-dimensional view of the stars and planets that surround our Earth. Tour the night sky, hear a talk from a scientist, or experience a laser rock concert. New discoveries are constantly added to the planetarium's software database.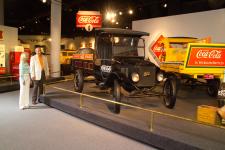 America's Cultural Heritage — The Root Family Museum features one of the world's largest collections of Coca-Cola memorabilia, gathered over decades by Chapman Root, whose glass company designed the iconic "contour bottle" design that became synonymous with the Coca-Cola brand and later became one of the soft drink's largest bottlers. The collection showcases all things Coke, including the science behind the construction of the famous bottle. And there's much more, including two mid-century train cars, an elaborate collection of 800 teddy bears ranging from a few inches to seven feet tall, an antique pharmacy, Indy race cars and quilts.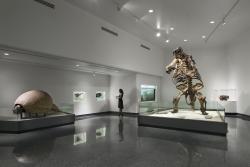 China, Africa, Cuba, Prehistory and More — The Museum's West and North Wings include an astonishing variety of permanent exhibits, including American art featuring furniture, painting, watercolors, drawings and decorative arts; Chinese Art representing thousands of years of Chinese history and culture; one of the finest collations of Cuban fine and folk art outside of Cuba, chronicling 300 years of Cuban history; African tribal art used in celebration, initiation, harvesting or preparation for war; the Prehistory of Florida Gallery featuring fossilized skeletons of a mastodon and a giant ground sloth (the most complete skeleton ever found) discovered not far from the museum; and decorative art that includes European porcelain, Staffordshire pottery, American silver, Russian enamel and American "Brilliant Period" glass.
Florida Art and History—The Cici and Hyatt Brown Museum of Art uses the largest collection of Florida art in the world to make Florida history come alive. Current exhibits include wood engravings from 19th century periodicals about Florida (that remote and exotic land that few Northerners at the time knew much about), as well as paintings that depict Florida's ever-changing weather, the linked stories of the Everglades wetlands and the Seminole Native American tribe that lived there, Floridians and tourists having fun in the sun, and episodes from the history of Volusia County.
Walk Through History — A short drive from the museum, Gamble Place is a 175-acre property once owned by James N. Gamble (of Proctor & Gamble). Included in the National Register of Historic Places, Gamble Place features a historic "Florida cracker-style" house used as a winter retreat, a historic Citrus Packing House, a cottage playhouse built in 1937 as a replica of the forest home featured in Walt Disney's animated Snow White and the Seven Dwarfs, and a tiny "witch's hut" made from an old hollow cypress tree that was used as a mapping landmark by early surveyors. Wildlife, ancient cypress trees and azalea blossoms can also be seen on the property.
MOAS ADDRESS: 352 S. Nova Road, Daytona Beach, FL 32114
Hours of fascination await you at the Museum of Arts and Sciences! Plan your Daytona Beach getaway today!