Head down to Halifax Harbor Marina for a weekend of family fun! From May 18–20, the Florida Boat Show is taking over one of the nation's most pristine marine facilities.  The three-day event will draw some of the nation's most dedicated boat enthusiasts, as well as recreational boaters and curious spectators. Whether you are looking to buy a boat or just want to "window shop" while you listen to live music, the event is a great way to learn more about the boating world and spend some time connecting with the great outdoors.Ahead, read everything you need to know about the Florida Boat Show: 
WHEN: May 18–20. Friday and Saturday from 10 a.m. to 8 p.m., and Sunday from 10 a.m. to 6 p.m.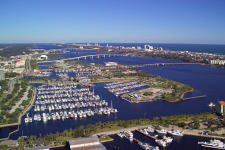 WHAT: Expect to see hundreds of new boats on display and available for purchase, including powerboats, sailboats, yachts and kayaks, as well as marine accessories. Beyond the boats, you can participate in live seminars, boating-safety courses, vendor exhibitions and more. There will be kayak and stand-up paddleboard demonstrations, paddleboard yoga classes and even a cornhole tournament. Plus, there will be live music to keep the event rocking all weekend long.
COST: $10 per adult; kids get in FREE
WHERE: Halifax Harbor Marina (If you're entering a GPS address, use 450 Basin Street, Daytona Beach, FL 32114)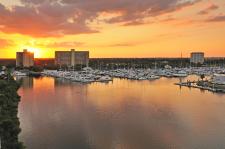 Located just off of the Intracoastal Waterway on 60 acres of property, Halifax Harbor Marina is the proud home to 550 slips and can accommodate a variety of wonderful setups on land and water. The people of Daytona Beach aren't the only ones who think so: Halifax Harbor Marina was named "Marina of the Year" by Marina Dock Age. Not only is it scenic, safe and pristine, the marina is also eco-friendly — in fact, it's the first marina on Florida's east coast selected to fly the Florida Department of Environmental Protection's Clean Marina flag. Come check it all out for yourself during the Florida Boat Show!
With more than 200 properties totaling over 12,000 rooms available in Daytona Beach, you and your family will have your pick of plenty accommodation options. Whether you're driving the whole family down and want condo-style lodging, or you and your sweetheart are flying down for a quick weekend getaway, there are a wide range of oceanfront rooms ready and waiting for you.
Learn more about the Florida Boat Show line-up online, and be sure to call 904-759-2758 with any questions. We'll see you there!