Maybe it's a mood thing. Do you prefer to go to the same stretch of sand time and time again when you go to the beach? Or, when someone says "let's go to the beach!" do you envision peace and tranquility one day and maybe frivolity and fried foods the next? One thing's for sure – Daytona Beach time is happy time. 
I think we're pretty lucky in Daytona Beach. We have 23 miles of beach to choose from – we can park on the beach (or not), we have excellent beachfront and off-beach parks with all the amenities and zero the fuss, and we have some really cool things to do in the shade, too. On top of all that, beach safety is paramount in Daytona Beach. Here's something you can feel really good about when you visit our beaches:
Volusia County Beach Safety Ocean Rescue was named the 2016 Beach Patrol of the Year, the highest honor given by the Florida Beach Patrol Chiefs Association.\
Find your favorite beach in Daytona Beach! Here's a beach-by-beach resource to help you find the perfect Daytona Beach vibe you're looking for.
 To help you zero in on the Daytona Beach vibe you're looking for, we put our bare feet to work to capture the essence of the beaches of Daytona Beach. Consider this your beach-by-beach resource for information on beachfront parks and off-beach parking areas in the Daytona Beach area, where you can drive on  Daytona Beach and, most of all, what's happening and when so you can maximize the fun of your Daytona  Beach vacation.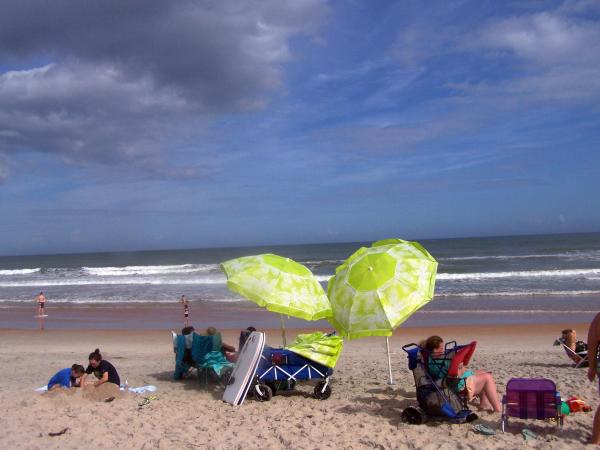 Ormond-by-the-Sea and Ormond Beach
From surf fishing to bird watching in Ormond-by-the-Sea's North Peninsula State Park to Ormond Beach, beachgoers are offered miles of unspoiled opportunities to view wildlife, all while sunning themselves in tranquility. The vibe is relaxed and stress-free with so many great Ormond Beach beachside eateries to choose from. Nearby beachfront parks that offer visitors amenities:  Michael Crotty Bicentennial Park, Al Weeks, Sr. North Shore Park, Tom Renick Park, Birthplace of Speed Park, and Andy Romano Beachfront Park.
Daytona Beach and Daytona Beach Shores
Here is where you'll find iconic Daytona Beach photo ops – think Main Street Pier, Sunglow Pier, Bandshell - and a zany level of boardwalk amusements and food trucks. Irresistible for the people-watching factor, then the vibe tempers to a quieter side as you travel further south. Renowned places to "nom" on the Daytona Beach beachside are part of the excitement. Search our restaurants by North Beachside, Central Beachside or South Beachside (which includes Ponce Inlet) to find an eatery closest to your sandy spot. Nearby parks: Sunsplash Park and Frank Rendon Park.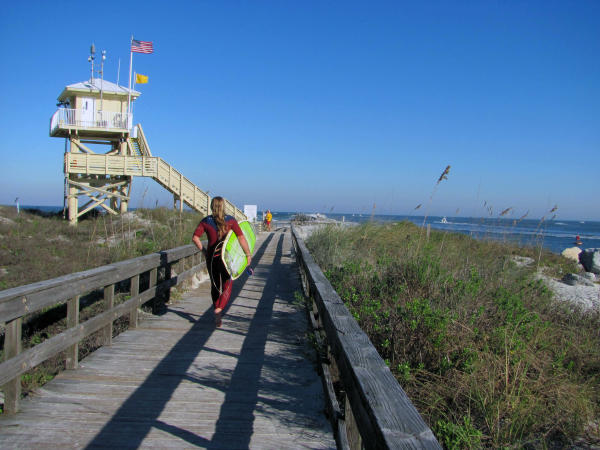 Wilbur-by-the-Sea and Ponce Inlet
Passing a sign that says "Last Bridge to Mainland" sets the tone for this area. A remote feel with a depth of natural beauty that is truly exhilarating. Places to park are easy to find with a fave being at Toronito Avenue. It has really cool bicycle racks to secure your ride to and beautiful native wildflowers enhance the landscape.  Nearby parks: Winterhaven Park and Lighthouse Point Park, where your salty dog is permitted on the beach. Beachfront barbecues make this a great spot to picnic while watching the boats cruise in and out of the inlet we share with New Smyrna Beach. You'll definitely find "Iconic Daytona Beach Photo Ops" here.
If you're wondering what it's like to surf in an original surf town, you'll love this.
If mobility is an issue for you, please visit our accessibility page for services. Check out Beach Mobility Rentals, too, to fully enjoy your beach time.
Hungry? Let us help you!
If you're not packing a cooler for your beach days, search our restaurant page for options. No matter if you're north, central or south beach sides, you can select your beach locale and find yummy options nearby.   
  Discover how "Simply Delicious" Daytona Beach is in this video!