February 1-10, 2019
Volusia Beer Week 2019 celebrates the best brewmasters in the Daytona Beach area and is a can't-miss event for anyone who enjoys a draft. With an up-and-coming craft beer scene, Daytona Beach and the surrounding communities are popular with beer enthusiasts of all tastes and types. And from February 1-10, we're cheers-ing to the best of the best. 
The week will be filled with a variety of meet and greets with brewers, special bottle releases, educational sessions, competitions and — of course — plenty of beer sampling. This DeLand-based festival is the perfect way to experiment with different beer types and explore beyond your "usual." Explore a new type of brew, give adventurous flavor combinations a go, or simply sip and savor the tastes you know you love. From exclusive brewer events to private dinner pairings, check out all that Volusia Beer Week has in store.
Beer Week Drink Volusia Bus Tour
WHEN: February 2, 2019, from noon to 8 p.m.
COST: $50
WHERE: Various breweries throughout town
Hop on board for eight hours of non-stop fun, friendship and frothy drinks! The Volusia Bus Tour will begin at Odd Elixir Meads in downtown DeLand and will make moves toward an additional six breweries from there. Your ticket includes the bus transportation from Odd Elixir Meads, one featured drink at each stop, and the camaraderie of 40 fellow beer enthusiasts!
Brews and Bowties Beer Pairing Dinner
WHEN: February 7, 2019, from 7 to 10 p.m.
COST: $50
WHERE: The Table Restaurant
Don't miss this "dinner of gastronomic proportions" held at The Table Restaurant in historic downtown DeLand. The event offers beer and food pairings that are entirely unique and sure to tickle your taste buds. Ten top local chefs worked with brewers to pair delicious dishes with 10 experimental beers — and the result is a thoughtfully considered curation that exemplifies how food and beer together can elevate an experience beyond what each can do on its own. Tickets are limited to 100 guests, so don't miss your chance!
10th Annual DeLand Beer Festival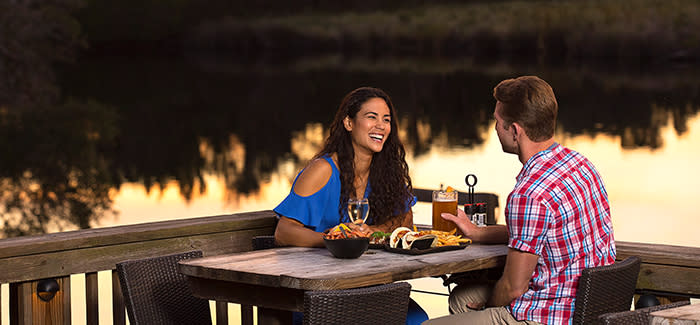 WHEN: February 9, 2019, from 1 to 5 p.m.
COST: $40
WHERE: East Indiana Avenue, DeLand
The DeLand Beer Festival is a favorite among beer enthusiasts from the area and beyond — and this year marks one decade of beer samples, spirits and serious fun in downtown DeLand! The fest will feature submissions from over 100 breweries — 50 of which are from Florida! Plus, there will be plenty of food trucks to satisfy your hunger and live music that will elicit plenty of dance-floor groovin' — especially after you've had a beer sample or two!
Come and experience some of the 400+ different beers, rare and vintage beers, cask beers and homebrew club specials. The fun will take place rain or shine, and attendees must have a photo ID to enter — so don't forget!
First Inaugural DAYTONA Beer Festival
WHEN: February 10, 2019, noon to 3 p.m.
COST: $52
WHERE: Daytona International Speedway
Daytona International Speedway has a new event on tap for DAYTONA Speedweeks Presented By AdventHealth. The DAYTONA Beer Festival will be held Sunday, Feb. 10, 2019 from Noon-3 p.m. in conjunction with DAYTONA 500 Qualifying Presented By Kroger and the Advance Auto Parts Clash. Tickets are $52 and includes a "beer passport," allowing guests to sample 10 of 70-plus brands, as well as a general admission ticket to the Advance Auto Parts Clash – a non-points Monster Energy NASCAR Cup Series race comprised of select drivers – and DAYTONA 500 Qualifying Presented By Kroger. 
Explore all participating breweries, find parking and buy tickets today!
You won't want to miss out on this 10-day celebration of all things hoppy and happenin' in the Daytona Beach area. Start planning your trip and find the perfect place to stay now!
Enjoy a look at everything Daytona Beach has to offer and start planning your next trip! Download our free official visitors guide or sign up for our e-newsletter.