Looking for a little lighthearted fun on your fall beach getaway? When it comes to sun, sand, and smiles, Daytona Beach has plenty to go around. From big-name stars and seasoned comedy veterans to open mic nights at the local pub, you'll find a range of comedic talent around these parts. Check out the fall line-up and start making your plans now! 
Upcoming Stand-up Comedy Shows
WHO: Mike Pantzer
WHEN: November 21 – 22, 2019
WHERE: Bonkerz Comedy Club at The Dog House Bar & Grill
Just a short drive away from the beachfront hotels in Daytona Beach, you'll find endless laughs in Port Orange at Bonkerz Comedy Club. The stage here has been graced by comedians featured on major TV programs such as The Late Late Show, Good Morning America, Comedy Central's Up Next, FOX's Laughs and so many more.
This fall, you can catch the hilarious Mike Pantzer, as seen on The Lowdown. After starting his career in Austin, Texas, the comedian relocated to Florida to pursue his calling of being "a glorious mess." He's honed his loserhood with 40 years of experience of failing, including failing as an actor, soldier, country singer, marketing executive, triathlete, lover, humanitarian, and usually as a person. Luckily, all of that losing makes for a great comic. See his show at Bonkerz on Thursday, November 21, or Friday, November 22, 2019. Guests ages 18 and up are invited to attend (– who's this? Canney's shows), and there will be a dinner menu and full liquor bar available.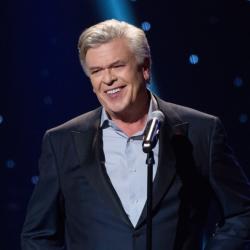 WHAT: Ron White
WHEN: November 22, 2019
WHERE: Peabody Auditorium
For an evening of side-splitting laughter, don't miss Ron White's show at the Peabody. You may recognize White from when he first rose to fame as the cigar-smoking, scotch-drinking funnyman in the Blue Collar Comedy Tour phenomenon. Now, he's a fully established, chart-topping, Grammy-nominated comedian and a feature film actor. He's created four comedy albums — all of which charted at some point at #1 on the Billboard Comedy Chart. He has plenty more funny stories to share, so his show in Daytona Beach on November 22, 2019, is one you won't want to miss.
Other Places to Get a Giggle
Daytona Playhouse
Head to the Daytona Playhouse which often has fun, family-friendly productions going on, and especially around the holidays. Be sure to check out the full line-up and find something that suits your whole family.
Daytona Taproom
The Daytona Taproom may be best known for having more than 50 craft beers on tap, but it also has a sense of humor. Every Tuesday, the pub hosts a comedy open mic night for those brave enough to get up there. Plus, Daytona Taproom is known around town as one of the best burger joints in Volusia County — so don't miss out! Come enjoy a craft brew, a killer meal, and a little local entertainment at no extra charge.
Downtown Daytona Live
Downtown Daytona Live livens things up with music, art, comedy, songwriting, games, and crafting nights.
Cinematique Theater
In addition to classic, indie and rare movie showings, the Cinematique Theater brings lots of laughter to the Daytona Beach area. Every Tuesday at 8 p.m., you can get your giggles out at Tuesday Improv at Cinematique! For just a $5 cover charge, experience the comedy troupe called Random Acts of Insanity. With new material each week to ensure no two shows are ever the same, this interactive and impromptu show is a favorite of audience members. During the show, the group gets the audience's help by asking for keywords and phrases, and then turns them into hilarious one-liners and full scenes. So head to the venue in historic downtown, grab a glass of wine and a snack, and sit back for an evening of entertainment.