Special thanks to guest blogger Lauren Gay for sharing her "Daytona Beach Family Getaway" on OutdoorsyDiva.com.

I'm not a native Floridian but I've lived in Florida since I was a young teenager. I used to hear so much about the infamous Daytona Beach but I had never experienced it as a vacation destination. A couple of weeks ago the teenager and I snuck in some much-needed family time on a quick getaway to Daytona Beach courtesy of Daytona Beach Area Convention and Visitors Bureau. He had a non-student day at school on a Monday making it the perfect time for an extended weekend.  With high school football season in full swing and his demanding course load, we don't have nearly as much free time as I'm accustomed to having. This weekend of family fun and recuperation couldn't have come at a better time. I think he needed a chance to rejuvenate and so did I. Daytona proved to be a great choice for family fun time.
Foodie Adventures
You know one of our favorite travel experiences is the food. We had some truly yummy meals on this trip and even some first-time experiences.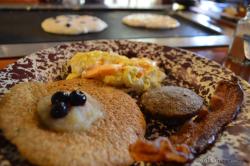 Our first stop took us toe DeLeon Springs State Park in northern Volusia County where we had an amazing breakfast at the Old Spanish Sugar Mill Grill and Griddle House. What makes this place so unique is that it has great views of the freshwater springs and there's a griddle in the middle of every table. My son wasn't aware that the griddle was already hot when we sat down and he touched it! Yikes! Our waitress brought him burn spray right away to soothe it.  It was mild but you must be vigilant if dining with your little ones. The griddle gets really hot. 
Do-it-yourself breakfast is a neat concept.  The all you can eat pancakes means they bring you two different kinds of batter and you can choose toppings to add to your pancakes. You can also order eggs and you cook those on the griddle too. If you order meat they will cook that for you in the kitchen and bring it out to your table. We got pretty creative with our pancakes. I was quite proud of my Mickey Mouse…even if one ear was a bit too large.
Tip: Weekends and holidays they can get pretty busy.  Our wait was an hour and a half and we checked in around 10 am. Plan to arrive early. Most people enjoy the grounds or explore the museum while they wait. There is a $6 fee to the park.
Crabby Joe's Deck and Grill was a great spot for a relaxing lunch. The views were spectacular. The restaurant is on Sunglow Pier and you are literally eating suspended out over the ocean. If you pick the right seats you can have some pretty amazing water views. The best part is that it's open air dining and you can choose to have the shutters completely open so that you can see and hear the ocean. The coconut shrimp was amazing. I also loved the peel and eat garlic shrimp with corn on the cob and pasta. My son enjoyed his shrimp po'boy.
Angell & Phelps Chocolate Factory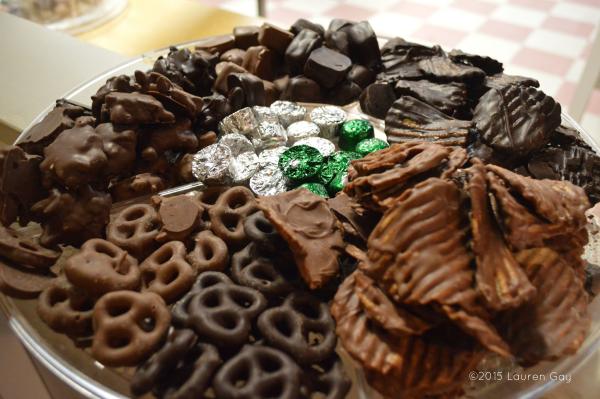 Free tours run about every hour at Angell & Phelps Chocolate Factory, a chocolatier shop on the downtown Daytona waterfront strip. The tour was very informative. You watch the workers work their magic through glass panel windows.  You name it; they can make your chocolate dreams come true. Aside from getting a sample at the end, my favorite part of the tour was watching the workers put the potato chips through the chocolate waterfall. Yes, she actually called it the chocolate waterfall. Let's all ponder on that for a moment. Drool.
It was hard not to go crazy because I wanted to buy up the whole store. My son and I settled on the chocolate covered bacon, chocolate potato chips, and chocolate almonds. They were all divine! They have chocolate covered Oreos, Twinkies, pretzels, nuts. I was halfway expecting an oompa loompa to come out from behind the counter. This place was my childhood Willy Wonka fantasy come true.  If you are a chocolate lover like myself, this place is a sight to behold. You won't regret your visit.
Read more about the "Misadventures of an Outdoorsy Diva" in Daytona Beach on her blog, Daytona Beach Family Getaway.