Country music fans, listen up! You can kick your summer off in style this year at the Country 500 Great American Music Fest. The mega music festival is returning to Daytona Beach for a third consecutive year, and it's bringing some of the biggest names in country music with it. Pack your sunscreen, boots and cowboy hat, and gear up for a three-day, three-night weekend extravaganza.
Last year, more than 75,000 country music fans from all across the nation showed up at the Daytona Beach music fest, which was met with rave reviews across the board. This star-studded, star-spangled event is already a favorite Memorial Day weekend tradition — and you don't want to miss out!
Again for 2018, the colossal country music celebration will take place at one of the most iconic venues in America: Daytona International Speedway. The infield totally transforms from an area for viewing speeding cars and squealing tires into a sea of bright lights, big stages and country music fans. You'll experience the speedway like you never have before.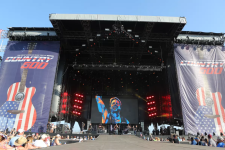 This year's all-star lineup promises to deliver one-of-a-kind memories, thanks to headliners such as Toby Keith, Chris Stapleton, Dierks Bentley, Sugarland and Billy Currington. Plus, you will also catch great acts like Tyler Farr, Randy Houser, Midland, A Thousand Horses, 38 Special, Frankie Ballard, Colt Ford, David Nail, Craig Campbell, Michael Ray, Runaway June, High Valley, DJ Dirty and many more! And, one of the best parts of music festivals is the chance to see smaller bands and local artists before they catch their big break! Discovering new music and fresh talent is always fun, especially when you're with thousands of your closest friends. Act after act, song after song, it's sure to be a fun-filled experience you'll never forget.
Be sure to check out all of your available accommodation options. Groove to music all day and crash in your oceanfront hotel room at night. Rent out an entire condo for your whole family, or stay in the campground on the festival site — there are options available for every preference and budget! For more information on camping and festival hotel packages, as well as to view the full lineup of artists and make your ticket purchases, visit Country500.com.
2018 Country Music Fest Video