Sunshine, salty air and 23 miles of white-sand beaches can put anyone in the mood to celebrate. Add authentic Mexican food and vibrant dance parties into the mix, and you have a pretty perfect Cinco de Mayo celebration. And in Daytona Beach, that's exactly what will happen!
Many people assume that the holiday marks Mexico's Independence Day, but this isn't quite right. Cinco de Mayo actually commemorates the Mexican army's unlikely victory over Napoleon III and his French forces on May 5, 1862, at the Battle of Puebla. Today in the United States, Cinco de Mayo has become an annual celebration of Mexican-American culture. If you find yourself in Daytona Beach on May 5, check out one of these local spots, and let the fiesta begin!
1.) Beachfront Party at Ocean Deck
For one of the area's most popular Cinco celebrations, head to Ocean Deck Restaurant & Beach Club. The party is sure to be poppin' at this event featuring lots of live music, drink specials and oceanfront fun. Split a margarita bucket at a great price, soak in the breeze and celebrate with friends — it's bound to be a great time.
VENUE: Ocean Deck Restaurant & Beach Club
ADDRESS: 127 South Ocean Avenue, Daytona Beach
2.) Cinco de Mayo Party at the Daytona Tortugas Game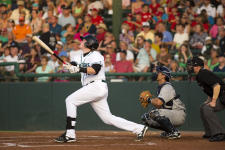 Baseball may be America's favorite pastime, but this May 5, the Daytona Tortugas are celebrating Mexican culture in grand style with a Cinco de Mayo party. Join them at Jackie Robinson Ballpark for a home game versus the Lakeland Flying Tigers to enjoy $2 tacos and $3 margaritas served all night long! And enjoy a special post-game fireworks show — the largest one in all of Volusia County.
VENUE: Jackie Robinson Stadium
ADDRESS: 105 East Orange Avenue, Daytona Beach
3.) Cinco Celebration with Cocina 214
Celebrate Cinco de Mayo at Cocina 214, a contemporary Mexican and Tex-Mex kitchen overlooking the Atlantic Ocean. The restaurant, known for combining bold flavors with fresh, local ingredients, will have an oceanfront lawn party with a DJ, giveaways and drink specials throughout the day. The restaurant is open from 11 a.m. to 11 p.m., but the lawn party will peak between 1 and 7 p.m.
VENUE: Cocina 214 Lawn
ADDRESS: 451 South Atlantic Avenue, Daytona Beach
4.) Latin Night on the Rooftop at the Streamline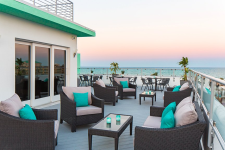 Experience an evening of happy times in a historic setting at the iconic Streamline Hotel, known as the birthplace of NASCAR. On the first Saturday of every month, the rooftop lounge transforms into a dancing hot spot for Latin Night at the Streamline Hotel. Take in the view, let your hair down, and dance the night away. There is a $5 cover charge and complimentary valet parking. This event is only for those aged 21 or older.
VENUE: Streamline Hotel
ADDRESS: 140 S. Atlantic Avenue, Daytona Beach
5.) Saturday Night Latin Party at Sazon
Get ready to rumba at the Saturday Night Latin Party at Sazon Latino Restaurant! Every Saturday night after 9 p.m., this restaurant turns into a happening spot to celebrate all things Latino — and this Cinco de Mayo will be no exception. Join the dance party!
VENUE: Sazon Latino Restaurant
ADDRESS: 3510 South Nova Road, Port Orange
From fresh tacos to mariachi music, there will be no shortage of celebration in Daytona Beach this coming Cinco de Mayo. Start planning your trip today!