Spring and summer entertainment events are heating up in Daytona Beach. From catching a wave to concert-going, there's no limit to the fun that awaits. And this season, Daytona Beach is delivering several live music events that are fully prepared to rock your world. 
LASER ROCK CONCERTS
Enjoy a futuristic show of sights and sounds at the Laser Rock Concert series at the Museum of Arts & Sciences (MOAS). Each second Saturday of the month in May and June (with a bonus weekend in June), the Planetarium at MOAS is putting on an extra-special concert that'll please more than one of your senses.
Watch the world light up with a sophisticated laser show set to the tunes of iconic rock bands. From the Beatles to Led Zeppelin, feel your favorite rock stars come to life with customized lasers and captivating artwork. Reminisce the glory days of rock 'n roll in a totally unique way at any one of the upcoming shows:
Saturday, May 12, 2018
7 p.m.: Laser Retro
8 p.m.: Laser Beatles
9 p.m.: Pink Floyd - The Wall
Saturday, June 9, 2018
7 p.m.: Hypnotica
8 p.m.: Laser Metallica
9 p.m.: Laser Zeppelin
Saturday, June 23, 2018
7 p.m.: Electrolaze
8 p.m.: Laser Vinyl
9 p.m.: Pink Floyd - The Dark Side of the Moon
With three back-to-back shows on each of the dates, MOAS offers an option to save on a whole night of entertainment. Get one show for $5, two shows for $7 or three shows for $9. These shows are recommended for ages 8 and up.
MIDTOWN MOTOWN CONCERT SERIES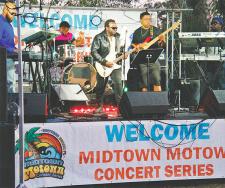 If laser light shows aren't really your speed, head on out to Cypress Park in Daytona Beach. You don't want to miss the Midtown Motown Concert Series, which is taking place on the second Saturday of each month in May through September. Hear the sounds of yesteryear with tributes to everyone from the Temptations to Tina Turner. Each show will feature a different Motown-era legend, and all promise to be unforgettable.
Saturday, May 12, 2018
7 p.m.: Simply The Best/Tina Turner Tribute
Saturday, June 9, 2018
7 p.m.: Memphis Motown Experience
Saturday, July 14, 2018
7 p.m.: Temptations & Four Tops Tribute
Saturday, August 11, 2018
7 p.m.: Motown Magic
Saturday, September 8, 2018
7 p.m.: Pocket Change
You can see these talented performers in person for FREE at Cypress Park, located at 981 George W. Engram Boulevard. Parking is convenient and also free of charge, and attendees are encouraged to bring their own lawn chairs or blankets to sit on.
Food and drink vendors will be scattered all around the park, so your stomach and your soul can get their fill!
Whether you prefer lights, lasers and classic rock legends, or you're more of a Motown fan, Daytona Beach has endless opportunities to turn your night up to the next level. Start planning your visit to Daytona Beach today!