Daytona Beach Transportation
Visitors can now fly directly into Daytona Beach International Airport via JetBlue from John F. Kennedy Airport (JFK), Delta (via Atlanta, GA) and American Airlines (via Charlotte, NC.) Check out our area airports for more transportation options.
The Daytona Beach area is very accessible whether you are traveling by car or prefer to use local transportation options.
Directions to Daytona Beach
Driving to the Daytona Beach area is easy, as two of the state's major interstates intersect here - Interstate 95, which runs north and south and Interstate 4, which comes in from the west. Other major roads leading into the area include U.S. Highway 1; U.S. Highway 92; State Road 40, which connects to Interstate 75; and Highway A1A which runs along the beautiful Atlantic coastline.
Directions from Fort Lauderdale/Miami: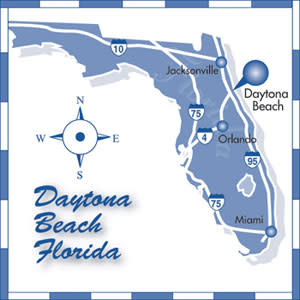 From Fort Lauderdale or Miami, take Interstate 95, North. Take exit numbers 261A through 273. Go east to reach the beachside areas.
Directions from Tampa and Orlando:
Take Interstate 4 from Tampa or Orlando heading east. Take exit number 132A and go north on Interstate 95. At exit number 261A, take U.S. 92 east to A1A and the beaches.
Orlando to Daytona Beach, 54 miles
Fort Lauderdale to Daytona Beach, 230 miles
Miami to Daytona Beach, 254 miles
Tampa to Daytona Beach, 139 miles
Enewsletter Sign Up
Email Address...