Convention Center
The Ocean Center is located in the heart of the Daytona Beach resort area and is just 400 feet from the Atlantic Ocean. The Ocean Center is the area's convention, entertainment and sports complex. Driving to the Daytona Beach area is easy, as two of the state's major interstates intersect here.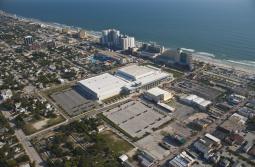 Click here to view/download the floor plan
The world-class Ocean Center meetings and special events center has a full spectrum of services to complement its facilities, including decorators, electrical contractors, a full service box office/business center and more. Over 2500 parking spaces are available on site at both a parking garage and surface lots. Ovations Food Services, the Ocean Center's exclusive in-house caterer, offers fine dining, box lunches and everything in between.

 
Enewsletter Sign Up
Email Address...