DAYTONA 500
February 21, 2016 
Tickets for the highly anticipated 58th running of the DAYTONA 500, NASCAR's biggest, richest and most prestigious race - and the first ever following the completion of the $400 million DAYTONA Rising redevelopment project - are on sale now. For the 2016 DAYTONA 500 scheduled on Sunday, February 21, fans will for the first time witness "The Great American Race" in the new motorsports stadium, experiencing unprecedented amenities that include 101,500 new, wider seats, thousands of premium club seats, 40 escalators and 17 elevators, 60 luxury suites, social "neighborhoods" and three concourse levels that will span the nearly mile-long frontstretch.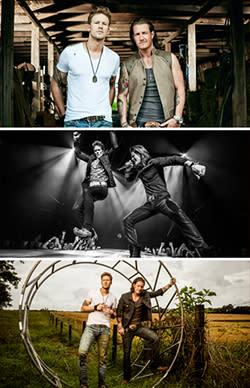 The pre-race show!
The DAYTONA 500 pre-race show features award-winning country music duo Florida Georgia Line! Comprised of Tyler Hubbard and Brian Kelley, who grew up in Ormond Beach, the duo, has sold over 18.2 million tracks off their 2X platinum debut album, Here's to the Good Times and won three Country Music Association awards and two American Music Awards. 
The history!
Daytona International Speedway, also known as the "World Center of Racing," has been home to the DAYTONA 500 since hosting the inaugural event in 1959. Traditionally held every February, the DAYTONA 500 is NASCAR's biggest, richest and most prestigious event of the year and the season-opener to the NASCAR Sprint Cup Series. Staged on the historic 2.5-tri-oval, the 200-lap, 500-mile event has been captured by racing greats such as Richard Petty, Dale Earnhardt, Cale Yarborough, Jeff Gordon, Dale Jarrett, Bobby Allison, Mario Andretti, A.J. Foyt, Jimmie Johnson, Kevin Harvick, Dale Earnhardt Jr. and most recently Joey Logano.
Fans from all 50 states and more than 40 different countries flock to Daytona Beach every year to see which driver will be the next to hoist the Harley J. Earl trophy as a DAYTONA 500 champion.
Lodging 
Click here for Daytona 500 Hotel & Lodging Availability.  Or use our Booking Engine here.
For more information, visit DAYTONA 500.
Enewsletter Sign Up
Email Address...