Biker Beach
Visit the official site for 75th Anniversary Bike Week, March 4-13, 2016 for special events and here for 2016 Bike Week Hotel Deals.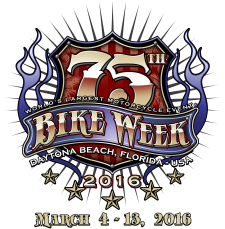 Welcome to Biker Beach -- your year-round destination for world-class motorcycle events in the Daytona Beach area! Here, you'll get the latest scoop on all things motorcycle-related.  Sign up our newsletters and you'll receive great calendar listings and the latest breaking news for the big events -- as well as lots of related events throughout the year.
A Passion. A Lifestyle. A Pilgrimage.
We've come a long way since the inaugural running of the Daytona 200 motorcycle race held in January 1937. The winner, Ed Kretz of California, rode an Indian motorcycle and averaged speeds of nearly 75 miles per hour. World War II caused us to put the races on hold for a bit. So instead of racing, we welcomed motorcycle enthusiasts to line their bikes up along Main Street and stay at area hotels. We called this unofficial party "Bike Week," and well, it caught on!
75th Anniversary Bike Week
Don't miss it this year! Celebrate with us and nearly a half million of your fellow bikers as you make the annual pilgrimage to Daytona Beach. Visit the official site for 75th Anniversary Bike Week, March 4-13, 2016 for special events.
You'll enjoy 10 days of high-octane street festivals, concerts, motorcycle races, bike shows, rallies, manufacturer showcases, and much more. Join us for a ride down historic Main Street and Beach Street, along U.S. Highway 1, scenic Highway A1A, and the ever-impressive Ormond Beach Scenic Loop. The Charlie Daniels Band is the headliner at Destination Daytona this year! You'll also want to check out why Riverfront Park Rocks and witness history firsthand during #Daytona200Week at iconic Daytona International Speedway.
Whether you travel by plane, train, automobile or motorcycle, all routes lead to Daytona Beach and all eyes will be on Bike Week 2016!

JetBlue Airways Launches New Route to Daytona Beach JetBlue Airways recently launched daily, non-stop service from John F. Kennedy International Airport (JFK,) to Daytona Beach International Airport (DAB,) providing direct flights from New York City.  Visitors can now fly directly into Daytona Beach via JetBlue, Delta (via Atlanta, GA) and American Airlines (via Charlotte, NC.)
Enewsletter Sign Up
Email Address...